PERFORMANCE AT GATES HALL
GATES HALL
Preserving The Legacy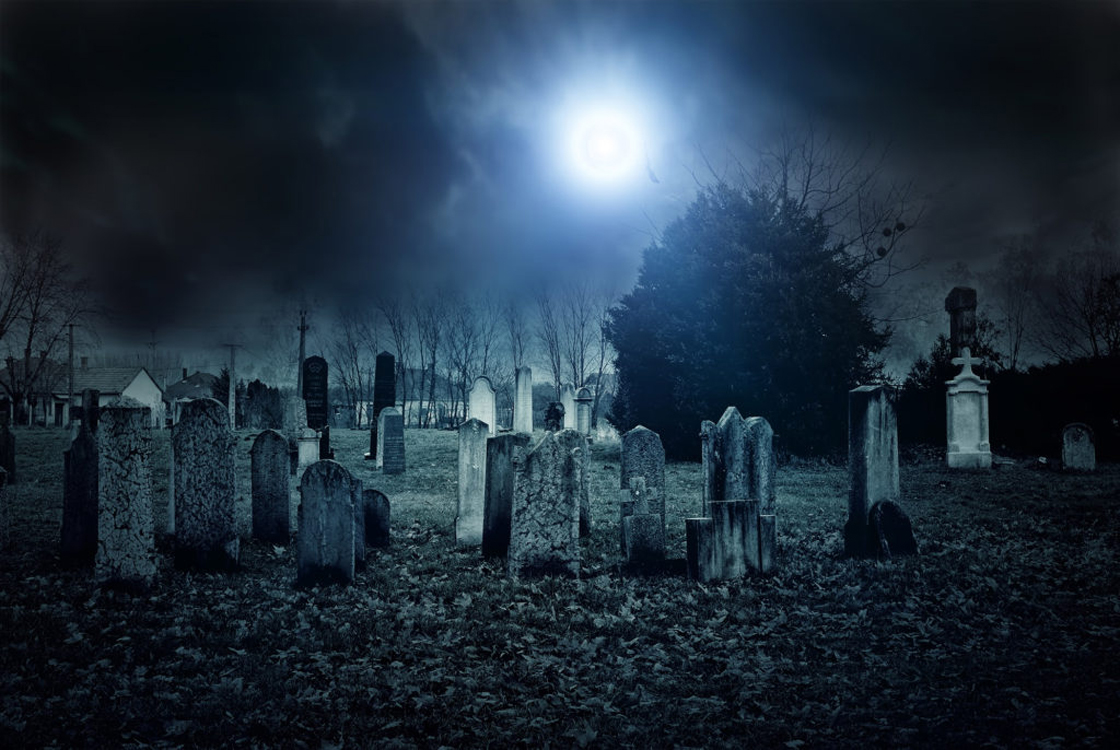 "Meet the Spirits" Cemetery Tour
Saturday, October 23, 2021 Lakeview Cemetery
3967 Lake Road, Pultneyville Tours at 6:30, 7:30 & 8:30 pm
Stroll through Pultneyville's Lakeview Cemetery and meet friendly spirits from the area's historic past under a beautiful October sky. Learn about this cast of characters, who were instrumental in carving out the town's early history, from their final resting place in this historic Pultneyville cemetery.
RESERVATIONS REQUIRED by October 20.

 
Please call 315.589.9892 and leave your name, number, preferred tour time and number in your party. Reservations will be on a first-come, first-served basis until tours are filled. Your call will be returned to confirm your reservation.
Tickets are to be paid for at time of check-in at Lakeview Cemetery. Ticket prices: 18 years old and over $12.00; 6-17 years old $8.00; children 5 and under accompanied by an adult are free. Please bring a flashlight and umbrella, if needed, and follow parking directions.
Please note

 
that we will be following any CDC coronavirus recommendations implemented at the time of this event such as MASKS and SOCIAL DISTANCING, CONTACT TRACING that would require all attendees to complete and sign a form at time of check-in. Please reference the Williamson-Pultneyville Historical Society  website –
https://w-phs.org
and our Williamson-Pultneyville Historical Society Facebook for any event updates.
2021 Board Meetings
Meeting time: 4 p.m., Meeting Place TBD (Due to COVID-19 and pending construction at Gates Hall) January 25, February 22, April 26, May 24, June 28, August 23, September 27, October 25, November 22.

(No meetings in March, July, and December)
Election of Officers for 2021
At the W-PHS Annual Meeting on November 4, 2020, there was an election of officers for the positions where terms were ending. Re-elected to serve as Vice President was Florence Doyle. Florence has just completed a one-year term as VP and will now be serving a two-year term. Elected as Treasurer was Amanda Fox Hanlon. Amanda is new to the W-PHS Board. Elected as Recording Secretary was Terry Sutherland. Terry is also new to the W-PHS Board. Continuing to serve on the Board are Nan Hance as President and Linda Perkins as Corresponding Secretary.

If you shop using Amazon, try using the link:
https://smile.amazon.com/ch/16-1076741
With this link you are shopping the same Amazon website, and still with Prime if you have it; but a portion of the purchase goes to W-PHS as a donation.  The only thing that changes is the way you access Amazon. You can bookmark this link so that by clicking the bookmark, you'll go directly to this page.
In the absence of fundraisers this year due to COVID-19, this is a way to help W-PHS with expenses. Any questions, please let us know.
Thank you and happy shopping!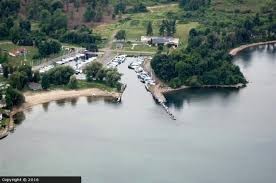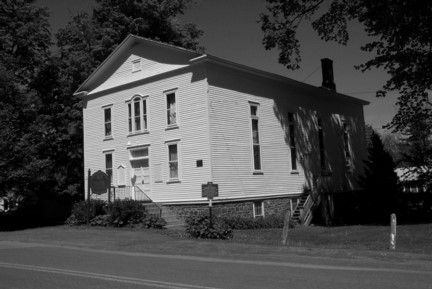 Since its inception in 1964, the society's mission has been to gather and disseminate information concerning the history the of the town of Williamson, Wayne County New York, in general and the unincorporated hamlet of Pultneyville in particular. Williamson, was established February 20, 1802 and named for Captain Charles Williamson the land agent originally selected to develop the land. which was part of the Phelps-Gorham purchase. In 1806, the settlement now known as Pultneyville was developed by Jacob Hallet a land agent for the "Pulteney Estate".
Located in the historic district in the hamlet of Pultnyville, the Society owns and manages 3 properties: the Society house at 4130 Mill Street, Centennial Park in the center of Pultneyville and Gates Hall across the street from the park. Gates Hall, built in 1825 by the community has been the venue for many historic events, including talks on religion, slavery, and women's rights as well as preparing supplies for the Civil War. Used for 150 years of theater and known as the second littlest theater in the United States, it is on the national register of historic places.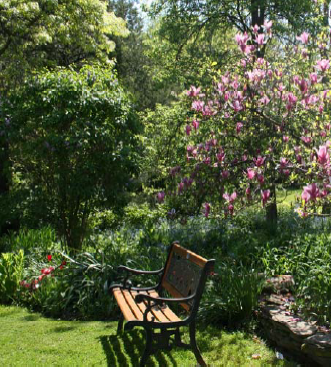 Peace Gardens are dedicated at historic sites in the Great Lakes region of the United States and Canada. War of 1812 Bicentennial Peace Gardens celebrate the two hundred years of peace and longstanding friendship between the two countries that share the world's longest undefended boarder. Visit the Pultneyville Bicentennial War of 1812 Peace Garden, dedicated in 2012, as an Honorary International Peace Garden. Situated on the grounds of the Williamson-Pultneyville Historical Society, at 4130 Mill Street in Pultneyville, it has a view of the hamlet and the charming harbor on Lake Ontario just across the street.
Walk among approximately 1,000 square feet of trees, bushes, and plantings of ferns, hosta, daylilies, peonies, rhododendrons and other shrubs and perennials. The sunny garden has many perennials that provide continuous bloom throughout the growing season including beautiful roses, hydrangea, astilbe, daylilies, foxglove, sweet william, phlox and more. Also integrated throughout are mature trees including magnolia, pear, Italian chestnut, maples, and oak. Take a walk down one of the two stone paths which go through the garden that has benches for relaxing and enjoying the view of an old capstan from a ship that sailed out of Pultneyville .
Local restaurants and restroom facilities are available.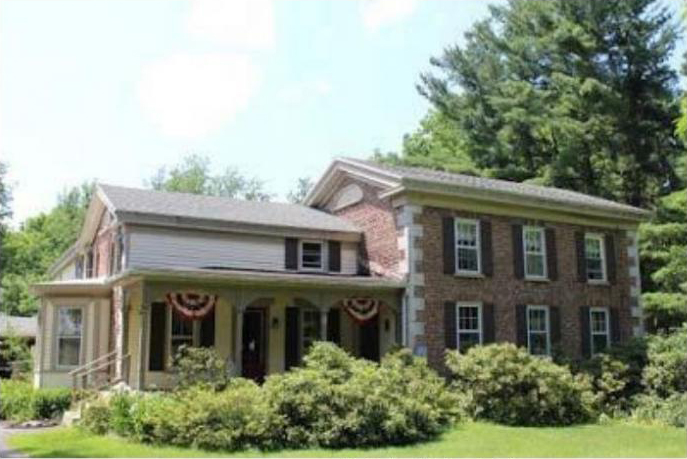 Williamson Cobblestones MAP
To start tour Get the Map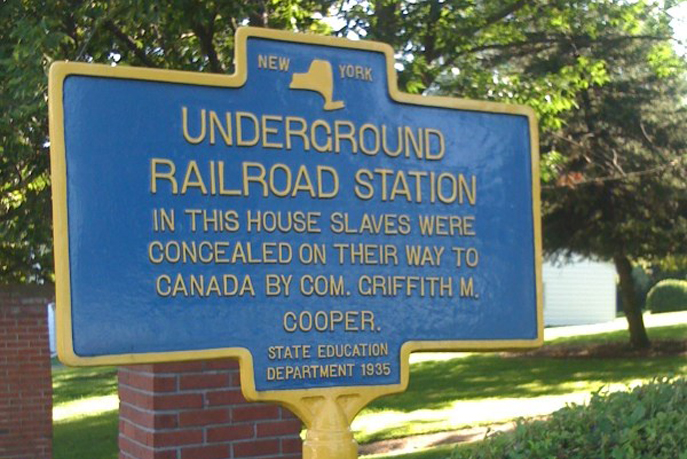 Williamson Narrated Abolition/Underground Railroad MAP
To start tour Get the Map
Featured Exhibits
Hours: Friday, Saturday, Sunday 1:00 PM to 4:PM from 3rd weekend in June through Columbus day and by appointment.
Horatio Nelson Throop, pictured above with his dog Jeppa, is believed to be the first person born in Pultneyville. His father, Samuel, was a seasoned saltwater sailor and Horatio carried on the family tradition as ship builder and captain of both schooners and steamships. Throop experimented with wind driven machinery and screw propellers in the 1830's.
The exhibit displays prototypes he made for his experiments, half hull models of his ships and cabin doors that saved his life when his ship Sophia sunk in 1827. Captain Throop was also an active participant in the Underground Railroad transporting fugitive slaves from Pultneyville to Canada. The Magic, completed in the 1880's and shown below was Throop's last ship.
In 1898, the three-masted lake schooner St. Peter sank on a dark and stormy night coming to her final resting place in 110′ of water off Fairbanks Point near Pultneyville, NY. Captain Griffin set sail for Toledo, Ohio reaching almost to the Niagara River when a fierce storm was encountered. Griffin tried unsuccessfully to outrun the storm by turning his boat about and running back down the lake in an easterly direction. All hands including Griffin's wife were lost except for Griffin.
Seventy-three years later, the St.Peter was located by a local scuba diver and from 1971 through 1974 many diving expeditions were completed resulting in retrieval of well preserved artifacts from the schooner. This exhibit, accompanied by an under water videotape of the ship, displays artifacts retrieved from diving expeditions. New York State has designated the Society permanent custodian of St. Peter's artifacts.
October 23 @ 6:30 pm

October 23 @ 7:30 pm

October 23 @ 8:30 pm
Our Business Partners
Click on logo to be forwarded to their web site
Membership
(Tax Deductible)
Basic Memberships
The Society offers four basic membership levels depending on the level of support one chooses: Friend, Patron, Sustainer, and Benefactor.
All basic levels of membership have the following benefits: 6 newsletters per year, free programs and exhibits. Sustainers will also receive 2 free Gatesinger Play tickets and Benefactors will have one complimentary use of Gates Hall per year approved by the Society.
Membership dues cover the period from January 1st to December 31st each year.  New members signing up after September 30th dues are applied for the remainder of the current year and the following year.
If paying by check click 2021 W-PHS Membership Form to down load the form.
Business Memberships
The Society also offers two business membership levels: Business Friend and Business Benefactor. All business categories receive 6 newsletters per year, free programs and exhibits, business card advertising in newsletters, listing on the Society's website and a Business Member window cling. Business Benefactors will have one complimentary use of Gates Hall per year approved by the Society.
Membership dues cover the period from January 1st to December 31st each year.  New members signing up after September 30th dues are applied for the remainder of the current year and the following year.
If paying by check click here to download 2021 Membership Form.
You may join or re-new on-line below:
Volunteering for the Society…And Having Fun Doing It!
Williamson Pultneyville Historical Society
4130 Mill Street, PO Box 92, Pultneyville, NY, 14538. Telephone (315) 589-9892
Hours: Friday, Saturday, Sunday 1:00 PM to 4:00 PM from 3rd weekend in June through Columbus Day weekend.