The Heart of the Bennetts – RESCHEDULED
May 2, 2018 @ 7:00 pm

-

8:00 pm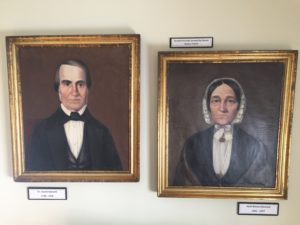 The Heart of the Bennetts will be revealed Wednesday, May 2, 2017, 7:00 PM at Gates Hall, 4107 Lake Road, Pultneyville, NY. This dramatic program has been prepared for the Williamson-Pultneyville Historical Society by Irene Bierer in recognition of the 2017 gift of portraits of three Bennett family members. Eleanor French bequeathed to this organization the historical paintings of her ancestors, Dr. Josiah Bennett, his wife, Ruth Reeves Bennett, and their granddaughter, Ellen Wealthy Bennett. The images now hang proudly for visitors to appreciate in the parlor room of the newly arranged Society house on Mill Street.
Based on historical family facts recorded in the Archives Department of W-PHS, public records, and obituaries provided by local historians Craig and Susan DeNagel, this original presentation uses five vignettes of the original Bennett family members to illustrate some of their various interests and challenges. With the use of this information and creative license to recreate interactions and conversations, the writer offers this piece of historical fiction to both edify and amuse guests with a walk back in time to 1816 when the youthful doctor first arrived in Williamson, then forth into the lives of his adult children to 1877.
As with all W-PHS programs, there is no charge, and all are welcome to glimpse the lives of this early local family.